Pablo Picasso was renowned as an innovative, artistic genius. His infinite creativity produced hundreds of works of art, many of which shocked and provoked, but subsequently transformed Modern art.
In Paris, Picasso was introduced to traditional African
Art. African Art so profoundly affected Picasso that it provided the creative impetus he
needed to create works that shed all conventions and enabled him to surpass his artistic
rivals. Picasso was by no means the first to be influenced by non-western art, but he was
the first to form a symbiotic relationship with the concepts of African Art and to create a
new aesthetic language.
Expeditions and the travels of the French elite in search of riches and adventure also helped to bring African Art to Paris however European scholars and artists were reluctant to accept the art of Africa as "fine art" instead they were referred to as "primitive"
The term primitivism as it was
applied to African art (and non classical art), was originally a positive one although it had
negative connotations outside the art world. "It comes from the word primitif, a
nineteenth- century French art-history word used in reference to certain late medieval and
early Renaissance Italian and Flemish painters. Eventually the term was applied to
African traditional art"
By the time of Pablo Picasso's visit to the Trocadero museum in 1907, at the age
of twenty-six, he had already achieved success with the paintings from his "Blue Period"
and his "Rose Period".
Although Picasso had seen African Art before, it was not until his visit to the
Trocadero museum that he was truly confronted by it. This visit would have a profound
impact on his work and revolutionize modern art. The revelation of deconstructed forms
of African sculptures would be manifested in Les Demoiselles d 'Avignon. Years later
Picasso spoke to the French writer and statesman Andre Malraux about the visit to the
Trocadero:
All alone in that awful museum, the masks, dolls made by the redskins, dusty manikins.
Les Demoiselles d'Avignon must have come to me that very day, but not because of the
forms; because it was my first exorcism painting-yes absolutely… When I went to the
old Trocadero, it was disgusting. The Flea Market. The smell. I was alone. I wanted to
get away. But I didn't leave. I stayed. I understood that it was very important: something
was happening to me… The masks were not like any other pieces of sculpture. Not at all.
They were magic things. But why weren't the Egyptian pieces or the Chaldean? Those
were primitives, not magic things. The Negro pieces were intercesseurs, mediators; ever
since then I've know the word in French. They were against everything- against unknown
threatening spirits…I understood; I too am against everything. I too believe that
everything is unknown, that everything is an enemy! Everything! I understood what
Negroes used their sculpture for. Why sculpt like that and not some other way? After all
they are not Cubists! Since Cubism did not exist. It was clear that some guys had
invented the models, and others had imitated them…isn't that what we call tradition? …
They were weapons to help people avoid coming under the influence of spirits again, to
help them become independent. Spirits, the unconscious, emotion-they were all the same
thing. I understood why I was a painter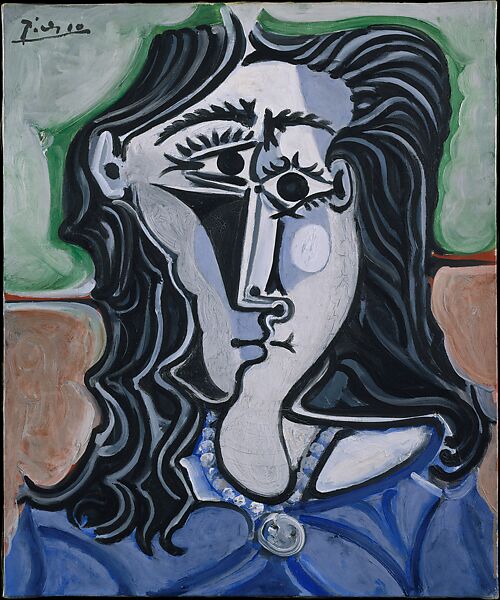 Picasso created a new language that overthrew the accepted formalities of
Renaissance's rendering of the human form. It was a combination of Cezanne's approach
to the faceted forms of nature and the ingenuity and power Picasso revered in African art.
This would set the foundation and give birth to Cubism (Patrick 388).
The second phase of cubism was called Synthetic Cubism. During this period,
Picasso continued to draw inspiration from African Art, but more of a summary and
concept than use of a specific style. The concept of the use of signs to describe reality
became an issue of discussion as Picasso's work became more abstract. Picasso would
start with a basic drawing of a face, for example, and then he would deconstruct it by
separating it into different geometrical shapes. He would then reassemble these shapes
only after removing the naturalistic link of each feature by displacing and overlapping
them, making the form distorted. Picasso however, would leave signs as clues for the
viewer to use.
Sources : https://www.palmbeachstate.edu/honors/Documents/picasso_and_africa_how_african_art_influeced_pablo_picasso_and_his_work_nadeenpennisi.pdf